For Real Estate Agents: How to Spot a Scam
Agents, if you have a potential buyer contacting you saying they're looking to purchase a property in crypto, they are COUNTING ON YOU to not know what you're doing. Here are a couple I've seen lately:
(RED FLAG #1)
The "buyer" is traveling, or on the east coast, or overseas, and they can only chat via WhatsApp.
(RED FLAG #2)
Then, for proof of funds, they send you a screenshot of a Coinbase account with millions of dollars in it.
No savvy trader in their right mind is going to hold that much crypto on an exchange. NO ONE.
(RED FLAG #3)
Now, you'll get some of these guys on the phone, talk to them, and they'll say they're active traders and try to befriend you to get them to invest with them. They'll tell you how much money they make on a daily basis and how they can help you.
Another scam I've seen over the years that's still going strong, is that someone with a coin you've never heard of and can't be verified wants to purchase real estate. They'll go on and on about how this is the most amazing coin and it's backed by "this celebrity" and "that famous organization", and that they ONLY want to purchase in THIS particular coin. So what do you do?
Ask for verification. Tell them that your payment processor will only accept a few tried and true coins such as bitcoin, Ethereum, Litecoin, heck, they'll even take dogecoin but they have to swap it to one of those. If they refuse, then the conversation is OVER. Do not waste your time.
They may give you pushback and say "Well if you aren't going to help us we'll just work with the listing agent."
*Girl bye.*
The sad part about some of these is that I've come across some people who are victims of these ponzi schemes, thinking their small investment has turned into millions and now they're ready to purchase real estate. They may have a "broker" working with them and "verifying" their money is there. It isn't.
So what's the typical protocol?
1. Potential buyer calls and says they want to purchase a property with crypto.
2. Is it all-cash or do they need to leverage?
All Cash? Which coin?
Is it one of the following? BitPay supports Bitcoin (BTC), Bitcoin Cash (BCH), Ethereum (ETH), Wrapped Bitcoin (WBTC), ApeCoin (APE), Litecoin (LTC), Dogecoin (DOGE), Shiba Inu (SHIB), Euro Coin (EUROC), USD-pegged stablecoins (GUSD, USDC, USDP, DAI, and BUSD). DASH, XRP or USDT?
Yes — Great! Have them send a screenshot of their wallet or exchange for proof of funds (PS — get familiar with what these look like). W2s are also available on many of the major exchange platforms.
If it's legit, call Guaranty Escrow and they can direct you.
No matter which platform, both will do AML/KYC (think of it as a prequalification process) — length of time needed is based on purchase price. Purchases below $500,000 will take less time.
No — Look coin up on CoinMarketCap or CoinGecko to see if it's traded and where. If it isn't listed, google it for any type of fraud alerts, lawsuits, etc… it's most likely a scam. If it is, they need to swap it into one of the above coins.
Loan options:
To get qualified for a traditional loan, contact Sarah Perahiah at First Republic (if in California). No seasoning period required!
For a collateralized loan option, MiloCredit offers a 30-year fixed, or contact Franco Devivo at Helio Lending to find out which option will work best.
You're now good to start searching for a home! The escrow process is easy. For conversions, the escrow company will send out an invoice. The buyer will have a finite time to pay or the link will expire for security reasons. Once the crypto is sent, it immediately gets converted to fiat and sent via wire to the escrow account.
For loans, collateralized or otherwise, the process is just like a traditional sale.
FAQ:
1. What happens to the volatility?
The burden of volatility is always on the buyer until the money is transferred. Once the fiat hits the escrow account, it's in USD.
2. What about wallet-to-wallet purchases?
Yes, we do those as well, but ONLY if the seller is a savvy crypto investor and understands the risks. If the coin tanks at 5:01 on closing day, the burden of volatility is their responsibility. There are also a few other disclosures involved such as verification of funds and hold harmless.
3. What about taxes?
Capital gains taxes are definitely a part of the equation. Have your client talk to their CPA and download our tax information sheet.
4. I'm new at this! Where can I learn more?
Visit our course page!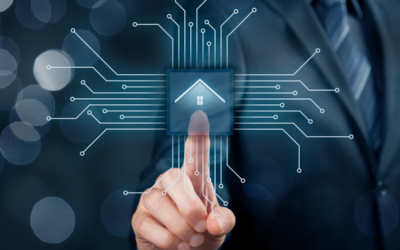 Short answer, yes. Long answer, real estate can use blockchain technology in various ways. Blockchain can be used to digitize...
read more